About Stried Painting, Inc.
Stried Painting Inc., founded in 1984, is an independently owned and operated interior and exterior coating company. Stried Painting Inc. is committed to the highest standards of quality and integrity. We offer an array of products and services for any commercial or industrial need.
Our full time, friendly and efficient staff have gone through many facets of training, ensuring the best job each and every time. Our staff is also available around the clock, to accommodate whatever scheduling needs you may have.
We are proud to have worked for many major Chicagoland businesses, including pharmaceutical corporations, banks and medical product companies. Stried Painting currently serves Lake, Dupage, Cook and Kane counties in Illinois and Pleasant Prairie, Kenosha, Racine, Milwaukee and the Milwaukee suburbs in Wisconsin.
Stried Painting Inc. is one hundred percent compliant with OSHA regulations and is concerned about the environment. Our waste is disposed of properly in accordance with the Illinois EPA (Environmental Protection Agency) and SWALCO (Solid Waste Agency of Lake County) regulations. As an environmentally friendly company, we are committed to keeping our world a cleaner place. We put our experience to work and stand behind what we do with a 2-year limited warranty.
Our customer's satisfaction is a high priority to us and we will not be happy until you are. As a results driven corporation, we look forward to showing you exactly what sets us apart from the rest.
The Stried Painting Team
With a large paint staff and 24/7 availability, Stried can meet any deadline with a team that's responsive, friendly, and dedicated to the highest levels of professionalism.
Every crew member is a Stried employee. That means you can rest assured that they've passed drug screenings and background checks, regularly undergo rigorous safety training, and are held accountable to meeting our standards of detail-oriented, quality workmanship and exceptional customer service.
With a dedicated field foreman running your project, you'll enjoy open communications and the security that comes from knowing who will be at your site every day. And it won't take long to see that our crews take pride in their work, conduct themselves with utmost professionalism, and are friendly and easy to work with.
Meet some key members of the Stried Painting team:
Jim Stried, President, Founded Stried Painting, Inc. in 1984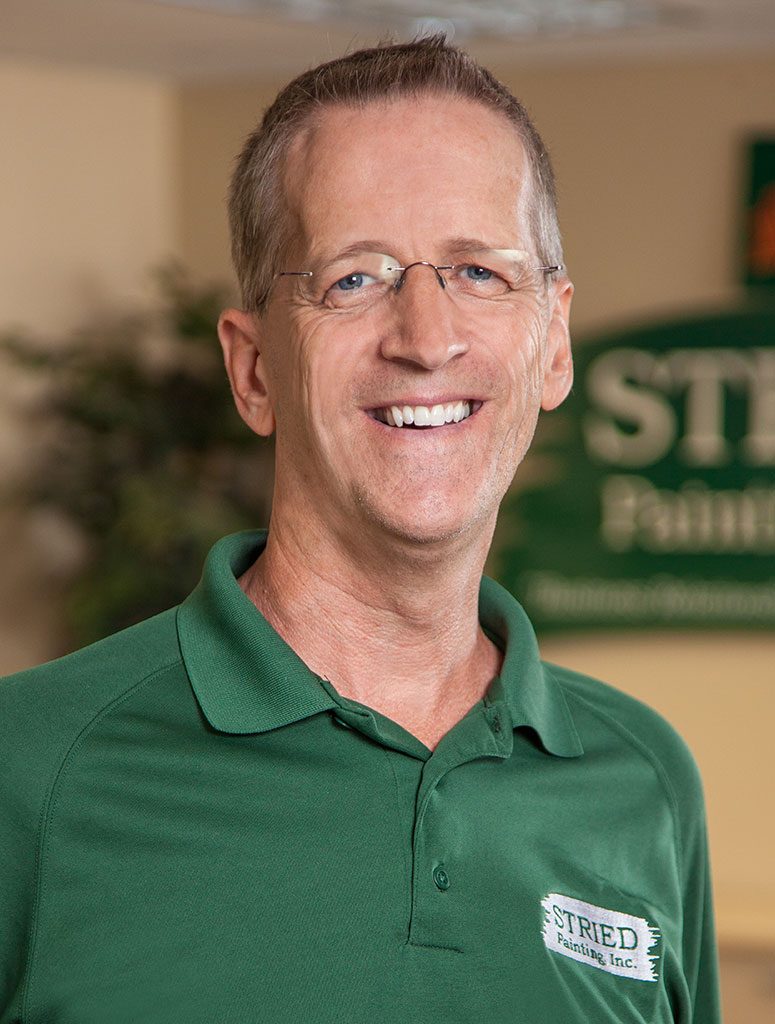 Background: Jim, who started Stried Painting over 30 years ago, has achieved Confined Space Entry and Fall Protection Certification, and attends bi-monthly contractor safety meetings.
What Jim says: "We are looking to build a long-term relationship with every customer. I want to know from day one until project completion that they are 100 percent satisfied with our customer service and workmanship.
"I also want them to know that on every project, big or small, they'll get a fair price quote. I want customers to be thrilled with the end product and that it was completed within their budget."
What customers say: Jim is trustworthy and truly cares about their needs and concerns.
---
Derrek Leith, General Manager
Background: Derrek has been with Stried Painting for over 28 years. During that time, he has earned his Fall Protection/Hazard Awareness Certificate, attended Confined Space Entry Training, and attends bi-monthly contractor safety meetings.
What Derrek says: "My personal approach to customer service is to build a relationship with the customer. I focus on communication from the start of a project and continually throughout, making sure the customer and Stried Painting walk hand in hand to arrive at a nicely finished project. To me, the two C's, commitment and communication, are the main reasons for 35 years – and counting – of Stried success.
"Repeat business with our corporate partners is important. That's why we want the customer to be 100 percent satisfied and for us to know costs and deadlines were met to their satisfaction."
What customers say: Derrek is honest and hardworking.
---
Mary Maraventano, Director of Business Development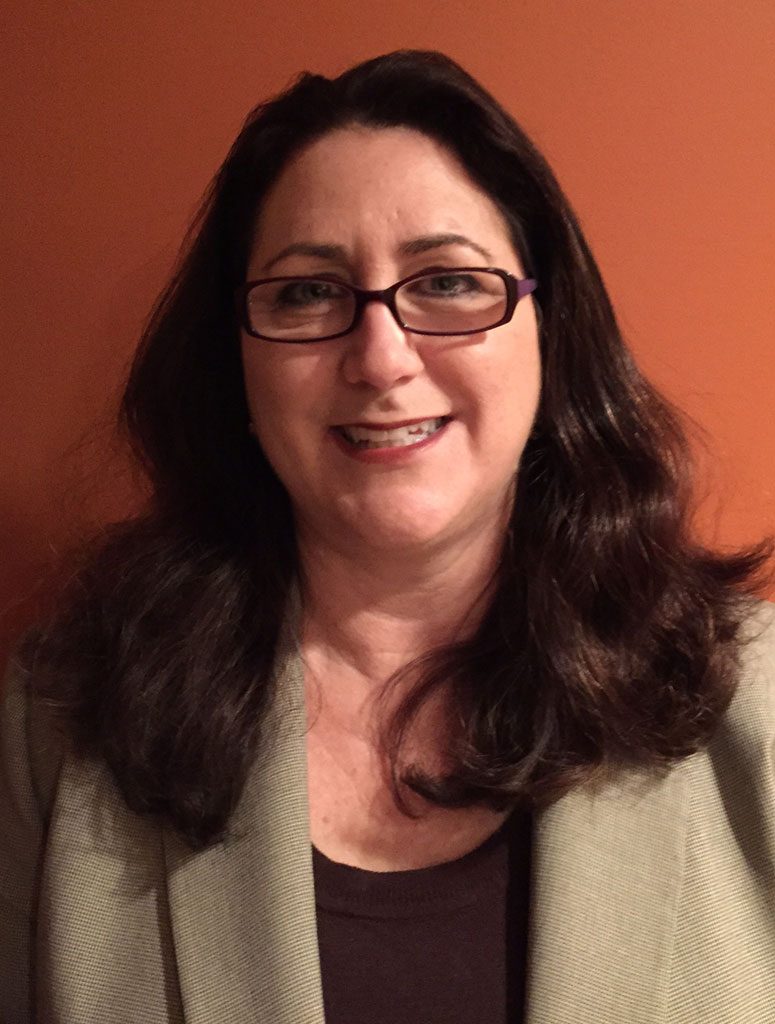 Background: Mary joined the Stried Painting team in 2014. She has been working in Business Development since 1988. Mary holds a BS in Psychology with a focus in Social Sciences, and an MS in Clinical Counseling Psychology.
What Mary says: "My approach to customer service is to understand the needs and outcomes desired by the customer – and then deliver the highest quality of service in a timely, efficient and personalized manner. Creating a strong business alliance, and business relationship that is customer focused, is very important."
What customers say: Mary is dedicated, passionate and energetic. She takes a novel approach to problem solving and strives to anticipate a client's needs before they know one exists!
---
Barry Heller, Sales Manager
Background: Barry joined Stried Painting in January 2019, and has a 10 year background in Business and Sales Management. Prior to joining Stried Painting, Barry was the lead Sales Manager for a residential home service business and looks forward to applying his experience in the commercial painting industry.
What Barry says: "I believe that success in customer engagement starts with honesty and trustworthiness. I focus on listening to the needs of my customer first, and then using their feedback to outline an effective project plan.

Once the project begins, I follow up with the customer and project team to ensure implementation is running smoothly. To me, a job is not complete without 100% satisfaction."
What customers say: Barry has creative ideas, and executes his projects to complete satisfaction.
---
Joe Alfaro, Sales Associate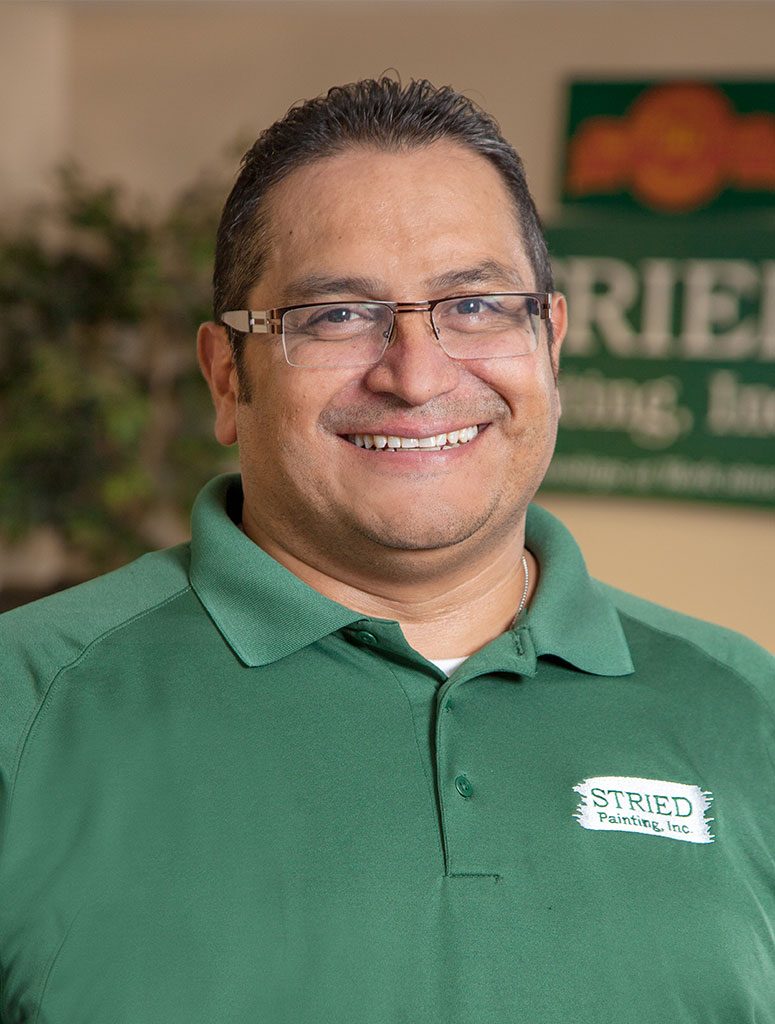 Background: In his 23 years with Stried Painting, Joe has earned his Fall Protection Awareness Certificate, has been named a Certified Renovator by the EPA, and attends bi-monthly safety meetings.
What Joe says: "A successful job for me is one where our customer doesn't even know we are there. We come into your place of business, we do a quality job in a timely manner, our staff treats you with respect throughout the project, and we do everything possible to make you happy.
"That's why at the end of every project, we review all painted areas to make sure the customer is satisfied and that we're leaving them happy knowing they got the best job possible for a very good price. The next time we hear from them, we want it to be to do more work. Repeat business is my personal goal. Whether they call back in three months or three years, I want to be the only painter they are calling back."
What customers say: Joe is reliable and dependable.
---
Michael Geissberger, Sales Associate
Background: A 16-year employee with Stried Painting, Michael has achieved his Fall Protection Certification and attends bi-monthly safety meetings.
What Michael says: "I believe our customers are the most important part of our business. They deserve top-quality work at a fair price, and my job isn't complete until they are 100 percent satisfied with the project.
"We want to build business relationships that last a lifetime. That's why we strive to complete projects on time and within the customer's budget. We won't consider our work done until the customer reviews all our work and gives us their stamp of approval."
What customers say: Michael is dedicated and committed to our satisfaction.
---
Environmentally Aware
Stried Painting, Inc. is concerned about the environment. We use ZERO VOC Coatings and LOW VOC Coatings, eliminating harsh paint fumes, so your facility can operate normally without disrupting productivity. Once a project is completed, all remaining materials are disposed of in accordance with Illinois EPA regulations.
A new coat of paint will freshen up your facility and it's good for employee morale as well. Let a Stried Painting, Inc. Project Manager help with all of your color selection needs. We will bring color and material samples to you and provide onsite sample testing to make sure you get the right selection for your facility.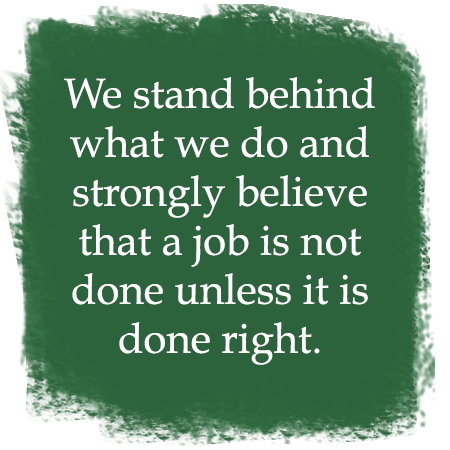 Our Warranty
Stried Painting Inc., stands behind each and every job we do. A 2-year limited warranty is provided for all work completed. In the event of paint failure we will supply labor and materials to correct the issue at no cost to you.
However, damage caused by accident or abuse, seasonal temperature changes, settling of structure, cracks caused by normal expansion and contraction of the building, discoloration due to sun exposure, chemicals or natural minerals and other events described as normal wear and tear will not be covered under this warranty.